The Day
Ownership Day 2017 is on 27th April 
This year's Ownership Day will be held on 27 April at FTSE Russell and will focus on the increasing materiality of climate change to investors. We will hear speakers from The Pensions Regulator, Institute and Faculty of Actuaries, Transition Pathways Initiative, ClientEarth, the Taskforce on Climate-related Financial Disclosures and the EAPF before networking drinks.
Legal Materiality
Natalie Smith – Lawyer, Company and Financial, Client Earth. Natalie will discuss the legal drivers that mean more schemes are considering climate change as a material factor.
Nico Aspinall – Chair, Environment and Resource Board, Institute and Faculty of Actuaries. Nico will speak about the Board's work to make sustainability issues mainstream in actuarial work and an overview of the IFoA's approach to climate change more generally.
Will Compton – Investment Consultant, TPR (The Pensions Regulator) – to discuss TPR's recent revision of the DC code and other work to ensure trustees are up to date with the current state of the law.
Asset Owner Reaction
Russell Picot – Special Adviser to the Taskforce on Climate-related financial disclosures. Russell will speak about the TCFD's work including the recent recommendations, as well as expectations for outcomes and next steps.
Adam Matthews –Church Commissioners for England – Adam will discuss the Transition Pathway Initiative and its work in engaging companies on their preparations for the transition to a low carbon economy.
Faith Ward – Chief Responsible Investment and Risk Officer, Environment Agency Pension Fund. Faith will speak about the recent legal changes for LGPS funds including the new pools
We also hope to publish an updated version of our Understanding and Applying Fiduciary Duty, The Guide to feature new developments since this time last year including The Pensions Regulator updated guidance clarifying the need to take material ESG factors into account.
Support this guide as a sponsor and align your brand with a unique expert but accessible guide for asset owners on their legal duties around ESG consideration. Please contact Simon Howard or Charlene Cranny for more information.
To register for this event please email Ellie Stewart.
This event is kindly sponsored by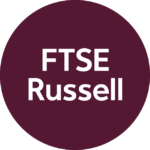 ___________________________________________________________________________________________________________
Ownership Day 2016 took place on 22nd March
UKSIF released 'The Trustee Best Practice Guide' Understanding and Applying Fiduciary Duty.
The half-day conference hosted by CCLA Investment Management Limited featured topics and questions including:
The latest thinking on fiduciary duty in the light of recent Law Commission developments and the McCall Opinion on fiduciary duty for charities.

How does the latest thinking on fiduciary duty particularly apply to environmental, social and governance (ESG) issues and responsible investment?

The latest thinking on transparency within the institutional investment market, particularly in the context of ESG and good stewardship.

Current best practice around communication between all parts of the investment value chain.
This event is kindly sponsored by   
___________________________________________________________________________________________________________
Ownership Day 2015 was held on 10th March.
In 2015 Ownership Day's key event was a half-day conference on the latest developments in active ownership: 'Voting, Reporting and Engagement – Asset Owner Calls to Industry'.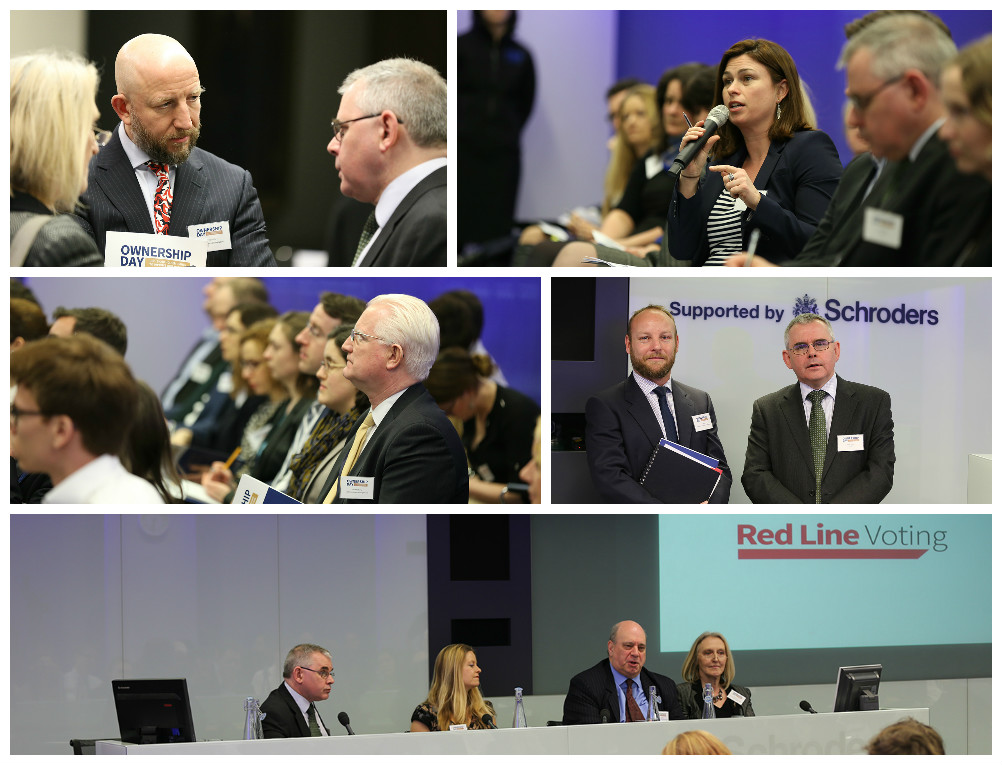 This free, invitation-only event, kindly hosted by Schroder Investment Management took place on Tuesday 10th March, from 1pm-5.30pm, followed by a drinks reception.
The conference featured:
The public launch of the Red Line Initiative, led by the Association of Member Nominated Trustees (AMNT), an initiative to develop standardised voting instructions that can be used by any asset owner looking to improve their stewardship efforts.
A panel discussion on RI reporting featuring contributors to the recent 'Guide to Responsible Investment Reporting in Public Equity' which was launched to improve fund manager to asset owner reporting on stewardship activity.
A panel discussion on engagement which asked what the industry is doing, reviewed actual examples of best practice engagement and responded to common trustee concerns.
_________________________________________________________________
Ownership Day 2014 was held on 25th March.
Dear members and supporters of Ownership Day, 
I'd like to thank everyone who supported Ownership Day on Tuesday 25th March 2014.  We had excellent traction throughout the day: the report and 'How to' guide we were able to produce hit the spot by being short and to the point, and we were able to present and discuss the report, 'Attitudes on Ownership 2014', at the NAPF in the morning. Thanks to Aviva Investors and Vigeo Rating.
The Commons reception followed with almost too many politicians and policymakers wanting to hear what we were about. This meant I couldn't speak to as many members and supporters as I had hoped, but it was for a  good reason. Our host Paul Uppal MP shared the BIS line on fiduciary duty which, whilst not going as far as we would like, isn't hopeless. There's a lot to do but the day overall showed the support for action in the industry, and the Reception showed encouraging support in Westminster. 
Bring on this Summer's Law Commission report and recommendations, and Ownership Day 2015!
Best wishes,
Simon Howard
Chief Executive, UK Sustainable Investment and Finance Association (UKSIF)
The highlights
The day kicked off with a breakfast launch of our report ' Attitudes to Ownership 2014' sponsored by Aviva Investors and produced in partnership with the National Association of Pension Funds (NAPF). Vigeo Rating also joined as sponsor of our 'easy guide' to active ownership for busy pension fund trustees.
The day ended with the Parliamentary Reception sponsored by F&C Investments, First State Investments, Hermes Equity Ownership Services, Jupiter Asset Management, Standard Life Investments, and Vigeo Rating.
Our Reception speakers included Barry Parr, Founding Co-Chair of the Association of Member Nominated Trustees (AMNT), and a trustee and DC specialist at The Pensions Trust, one of the largest pension funds in the UK. The invitation-only Reception was kindly hosted by Paul Uppal MP, member of the No. 10 Policy Board and Parliamentary Private Secretary to Business, Innovation and Skills Minister David Willetts MP, who gave us an insight into the Government view on "stewardship" and related issues.
"…If we are to successfully mitigate the effects of mega-trends such as climate change and resource depletion on people's savings and pensions then it is important that we encourage those investors to talk to the companies they invest in about their environmental, social and governance concerns."

– Martin Horwood MP, Vice-Chair of the All-Party Parliamentary Group on Responsible Investment
Over 100 people attended our Parliamentary event to celebrate the campaign, including over 20 MPs, Peers, Ministers (both actual and Shadow!), senior regulators and civil servants.  While eating scones and jam, we listened to Paul Uppal MP giving us an exclusive insight into the latest Government thinking on active ownership and Barry Parr presenting the trustees' perspective.
UKSIF members can find out more on the latest Government thinking on active ownership by contacting Fergus Moffatt, Head of Public Policy at fergus.moffatt@uksif.org.
We are pleased with the unprecedented level of policymaker activity and engagement with Ownership Day and our campaign asks.  We are particularly grateful to the Parliamentarians who offered their support and agreed to help us take the campaign forward (e.g. through asking Parliamentary Questions and becoming part of our informal coalition), as well as those who have already begun to act on behalf of the UKSIF member constituents who wrote to them in support of Ownership Day.
Thank you to everyone who emailed their MP to ask them to support active ownership. We were impressed by Jim Fitzpatrick MP in particular for returning to the reception twice in between other commitments to see his constituent, Lindsay Smart, Head of US and UK Markets, Vigeo Rating, following her contact with him.
You can still write to them and ask that they write to your local authority, asking them how their pension fund practises 'active asset ownership' and what steps they are taking to ensure they take account of risks presented by environmental, social and governance (ESG) factors in their investments.
A public survey conducted by YouGov for Ownership Day found that 51% want pension funds to encourage companies to pay a living wage and 48% want pension funds to ensure that executive pay and bonuses are not excessive. Our report, Attitudes to Ownership 2014, also suggests that pension funds may need to communicate more effectively with members on how they approach these issues. As part of Ownership Day, ShareAction launched a campaign to encourage scheme members to contact their pension funds to act on these issues. Get involved here.
Ownership Day is just the beginning for some of our lobbying campaigns – including around fiduciary duty – so if you'd like to find out more about UKSIF's future plans on the 'ownership' and ESG agendas, do get in touch.